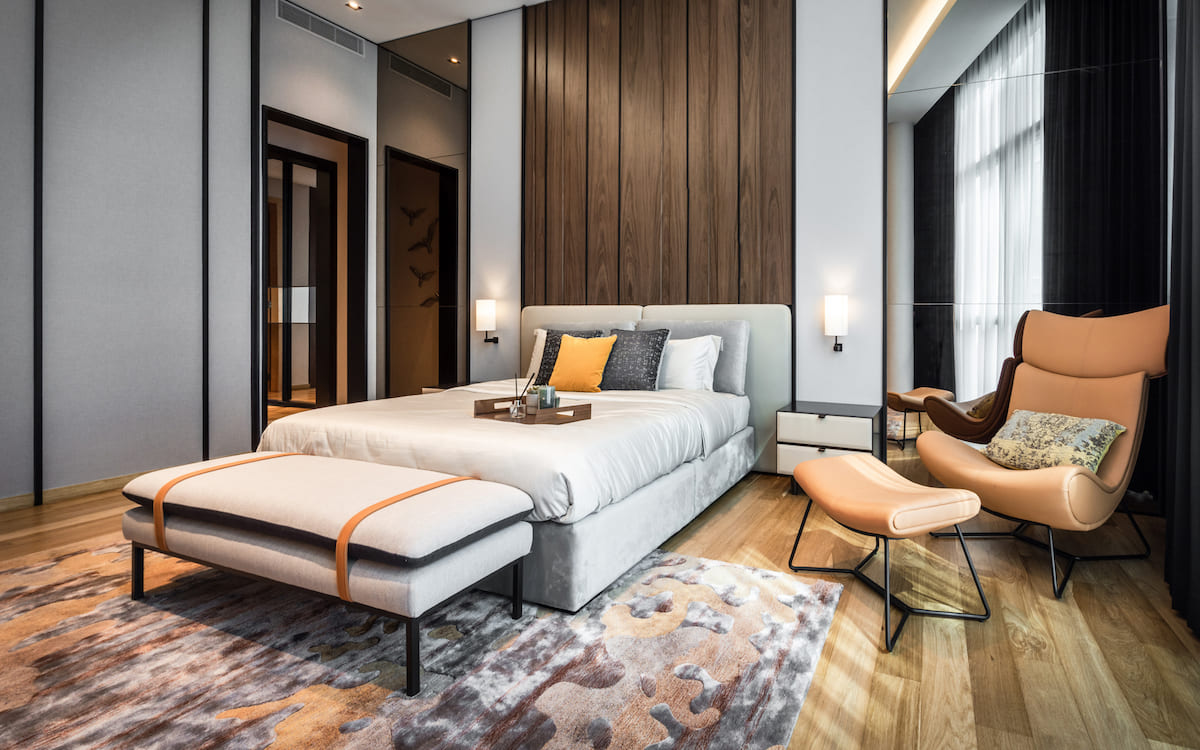 Residential — Damansara Heights
Inspired by a Monolithic concept, the Penthouse at DC Residensi at Damansara Heights by Guocoland is a vista of dark yet calming space comprising of natural elements and a burst of colours to offer its occupants elements of contrast. There would have been nothing extraordinary with this unit, if not for the clever juxtaposition of elements devised by the team at Ashway Designs.
All the wallcoverings in this project was supplied and installed by Waltex. Over in the living and dining areas, a luxurious vertical silk texture in a dark tone was used while Bristol, a linen textured wallcovering, was used for the accent walls. In the guestroom and office, Regency Silk, a horizontal silk texture, in Onyx is applied to the bedhead wall. To balance out the dark colours – brass, copper and wood elements are incorporated throughout. To further elevate the luxuriant feel of the penthouse, bursts of colours make an appearance in the form of throw pillows, décor items, and carpeting and it is a subtle way to break the monotony of the rooms. From accent cushions and décor items to textured paint and brass details, the layers of textures are sumptuous and wills you to explore further.
In the master bedroom and office, Belgian Linen in cool grey is used while another cool grey wallcovering in a different textured was opted for the walk-in wardrobe general walls.
The quiet luxury of this penthouse beckons from design details that are carefully and artfully arranged within the space. Abstract art pieces that adorn the walls too play a part in bringing the space to life and adds a fun element to a serious home as art is always a perfect accompaniment to an interior.